This is Harry Langenbacher's web site!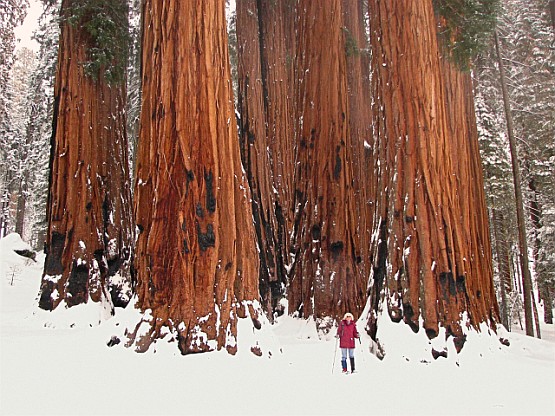 Debbie Appears before The Senate, Congress Grove, Giant Forest, Sequoia NP, March 30, 2008.
Planning to climb Conness and Kuna summer 2012
Taboose Pass, Bench Lake, Arrow Peak Sept. 11-14, 2009.
San Gorgonio Wilderness, 4 summits, Nov. 8, 2008.
Mt. Pickering, 13,474', Sept. 13, 2008 (Miter Basin)
Red Slate 13,136', August 2008
Miter Basin in July! NOPE - stopped by a back injury!
Planning to climb Tyndall and Caltech late May, 2008. NOPE - snowed out!
I went back to Barnard May 11th, 2008
We climbed climbed Boundary, Montgomery, and Dubois Sept. 30 - Oct. 1, 2007
I climbed Mt. Brewer August 4 2007!!! via Kearsarge Pass to complete my SPS "Emblem".
Planned on Dubois June 24, 2007 but - oops, just Boundary Pk. instead
Armstrong Col to Sawmill Pass, for Colosseum and Cedric Wright May 25-28 2007
We climbed Etiwanda and Cucamonga in the San Gabriels May 14th 2007
We climbed Cardinal Mountain May 6 (2007). Pictures here, here, and here
We tried to do Mt. Brewer September 30, 2006, but I climbed a minor 13000 ft. peak , instead. See Shawn's report.
We had a trip to Ritter and Davis at the end of August, 2006
I climbed Mt. Goddard on July 29, 2006.
I was planning a trip to Mt. Brewer for Memorial Day, 2006, but OOPS, Bubbs Creek was overflowing its banks,
so we went to Sawmill Pass and Colosseum Mountain instead.
I went on a Mt Barnard and Trojan Peak trip May 5-7, 2006.
I attended the Wilderness First Aid Course at Harwood Lodge in June 2006. See the WFAC home page at http://wildernessfirstaidcourse.org/ if you want great training for first aid in the wilderness.
Here's some disorganized stuff about climbing Mt. Keith

See my page about the missing summit registers in the Sierras, click here.
Here are a few topographical and other maps for a some California/Nevada mountains.
Here's my old web page
I have a bunch of pictures posted on Webshots here.
Here are waypoints for all the HPS list peaks, in many formats.
I like peak bagging, especially in the higher Sierras. See my climbing resume.
I ran a Half Marathon in 1:49:14 in 2006.
I ran 10k in 47:59.9 at the local college track on a warm Sunday evening, 7/8/07.
A few pictures of Patty R. are here
Email Me HERE



East Lake, East of Mt. Brewer, 8-3-07.
---